---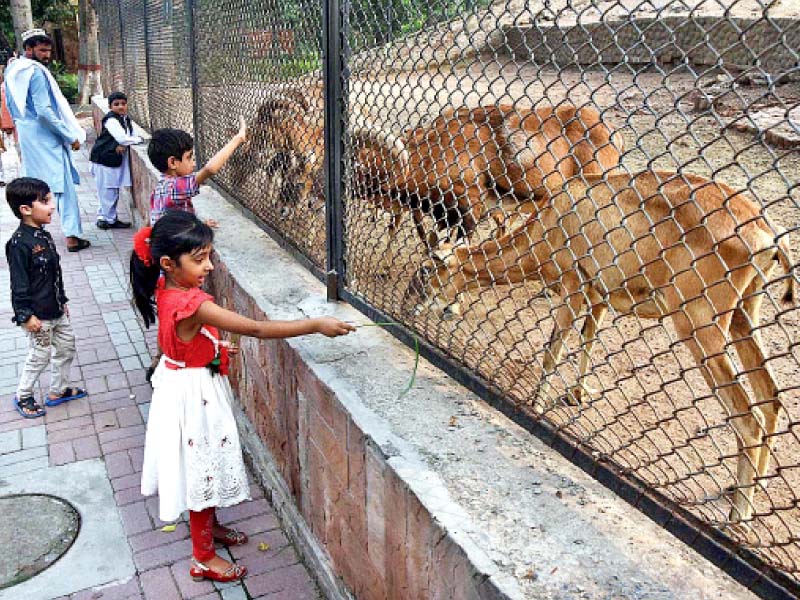 Children offering grass to herbivores in Lahore zoo.
---
A new mini-zoo has been established in Shimla Hill Park in Abbottabad, as part of a positive initiative by the Department of Wildlife and Tehsil Municipal Administration (TMA) in March 2023.
Abbottabad deputy commissioner inaugurated the zoo which is intended to provide an opportunity for recreation to the citizens as well as help in protection of local wildlife. In the first phase, the zoo will feature a variety of birds and local leopards.
During the inauguration, officials from the provincial wildlife department announced that the mini-zoo will initially house a range of birds, including kalij pheasant, lady amherst, golden pheasant, silver pheasant, ring-necked pheasant, wild pheasant, yellow golden, red pheasant, vitro pheasant, and other wild bird species.
Abbottabad Wildlife and TMA employees have been tasked with the care of the mini-zoo, and will be responsible for the protection of animals and birds according to modern scientific principles.
Sub-Divisional Forest Officer Wildlife Sardar Muhammad Nawaz said that future phases of the zoo will include other animals and birds, which will likely to increase the number of tourists visiting the park.
Among those present at the opening ceremony were Conservator Wildlife for Hazara Circle Muhammad Arif, Tehsil Mayor Sardar Shuja Nabi, Tehsil Municipal Officer TMA Abbottabad Shakeel Hayat, and Divisional Forest Officer for Wildlife Muhammad Idris, and Sub Divisional Forest Officer Sardar Muhammad Nawaz. Additional Deputy Commissioner Relief Rabia Sajjad and Tehsil Officer for TMA Abbottabad Abid Khan.