---
17-year-old elephant Noor Jehan at Karachi Zoo passed away on April 22, 2023. Her death followed an unfortunate incident on April 13 that left her unable to leave the pool in her enclosure for hours. After the local team was able to pull her out under the remote supervision of Four Paws, Noor Jehan was unable to stand up on her own despite multiple attempts to help her. Already weakened from a serious condition she was recovering from, the elephant did not have the strength to rise once more. After fighting for nine days, she succumbed to her critical condition. She spent too long lying on the ground – a life-threatening situation for elephants.
It is now more urgent than ever that the remaining elephant at Karachi Zoo, Madhubala, who is mourning her long-time companion, is transferred to a more species-appropriate location as soon as possible, to prevent another potential tragedy.
Noor Jehan's life hung in the balance after she was pulled out of the pool. She could not stand up on her own even after days of supporting her with a crane. As a result, the responsible authorities in Karachi set up a committee of national and international experts and veterinarians. The committee included members of the Four Paws expert team that had previously treated Noor Jehan and was given the mandate to advise and recommend on how to proceed with Noor Jehan's future. The ultimate decision on Noor Jehan's future would have been taken by the authorities. Before they could come to a decision, Noor Jehan sadly died.
"When we left Karachi after our initial health assessment of Noor Jehan, we were hopeful about her recovery. We were in constant contact with the local team after she got stuck in the pool. It is heartbreaking that she had to die at only 17 years old, when she could have had many more years. Karachi Zoo does not fulfill international standards and is not equipped to take care of elephants, especially when the animals need specialised veterinary care. Therefore, Madhubala, the healthy elephant remining at the zoo, must be relocated to a more species-appropriate place as soon as possible to at least give her a chance at a better life," said Four Paws veterinarian Dr Amir Khalil.
An expert team from Four Paws was invited to Karachi by the zoo officials in early April to provide an urgent medical assessment of Noor Jehan, whose health had quickly deteriorated within weeks, leaving her unable to move her hind legs and in a lot of pain. The experts determined the cause of her pain and provided immediate relief. Noor Jehan responded well to the treatment, and while still being treated as an "intensive care" patient, showed signs of improvement prior to the pool incident. With proper care and the zoo staff following the recommendations by the Four Paws experts, Noor Jehan would have had a chance at recovery.
Josef Pfabigan, global CEO of Four Paws in a statement said:
"It saddens us immensely that Noor Jehan's story came to such a heartbreaking ending. We would like to thank everyone who worked day and night during these challenging times to try and give Noor Jehan a chance at survival. We hope the authorities in Pakistan will take Noor Jehan's sad fate as an example and do better for captive wild animals in the country in the future. Noor Jehan represents so many more wild animals that suffer in captivity, in Pakistan and worldwide. We welcome that the Federal and Sindh government are considering shutting down Karachi Zoo permanently. This could be a turning point for the welfare of wild animals in captivity in Pakistan. FOUR PAWS is ready to continue providing its support and expertise in Pakistan in cases where sustainable solutions can be achieved, to help improve the lives of as many animals as possible."
---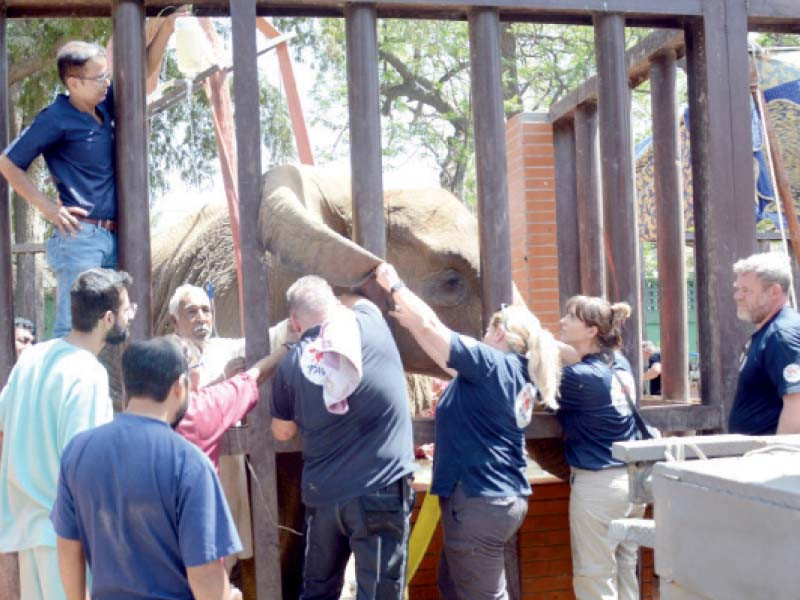 Experts of Four Paws organisation treat the ailing elephant, Noor Jehan, at Karachi Zoo.
---
In early April, Four Paws team was on-site to aid Noor Jehan at the Karachi Zoo. Noor Jehan's suffering began with her limping. Her condition deteriorated fast to a worrying state that left her partially paralysed. During the examination, the experts identified an internal hematoma and a damaged pelvic floor as the main sources of her pain and physical distress. They provided immediate pain relief treatments and recommended proper care for Noor Jehan's rehabilitation.
Since 2021, Four Paws has recommended relocating Noor Jehan and her companion Madhubala to a species-appropriate place that fulfils international standards. The authorities have now finally committed to relocating both elephants as soon as Noor Jehan is healthy enough to be moved.
Experts from the international animal welfare organisation were called for help by the zoo officials as the treatment and special equipment were not available in Pakistan. The facilities generally for any kind of animals are pathetic in the country.
The medical procedures to determine her condition and further treatment included an ultrasound examination and additional laboratory tests. To provide immediate relief to the suffering elephant, the team applied medications, administered vitamins and painkillers, and did hydrotherapy after identifying the cause of her serious condition.
"During the ultrasound examination, we detected an inner hematoma and a damaged pelvic floor. This shows that trauma must have happened, which has caused the current painful health condition, and also explains her unusual body position.
Noor Jehan needs a lot of movement to activate and train the muscles in her legs again, which will also improve the mobility of her digestive tract. She will also receive a special diet to recover soon.
"It is now more important than ever that Noor Jehan regains strength, so she and her companion Madhubala can soon be relocated to a more species-appropriate home, where she can recover fast. We gave recommendations and guidelines for Noor Jehan's recovery, her future and survival now depend on the zoo following them," veterinarian Dr Amir Khalil said, who is leading the expert team on-site.
Better life chances
"We welcome the commitment of the local zoo officials and authorities to finally relocate both elephants. We are glad that she still has a chance at a better life," said Josef Pfabigan, global CEO of FOUR PAWS.
He said the organisation would especially like to thank the Sindh governor for attending the medical assessment of Noor Jehan and for his overall support.
This once again shows the long-term, sustainable changes we can achieve when authorities and animal welfare experts work together closely. FOUR PAWS is ready to continue providing its support and expertise in Pakistan in cases where sustainable solutions can be achieved, to help improve the lives of as many animals as possible," Pfabigan added.
By April 4, Four Paws was placing the chances of Noor Jehan's survival at 50-50. We fear she won't get up again if she falls, Dr Amir Khalil said while talking about elephant's surgery.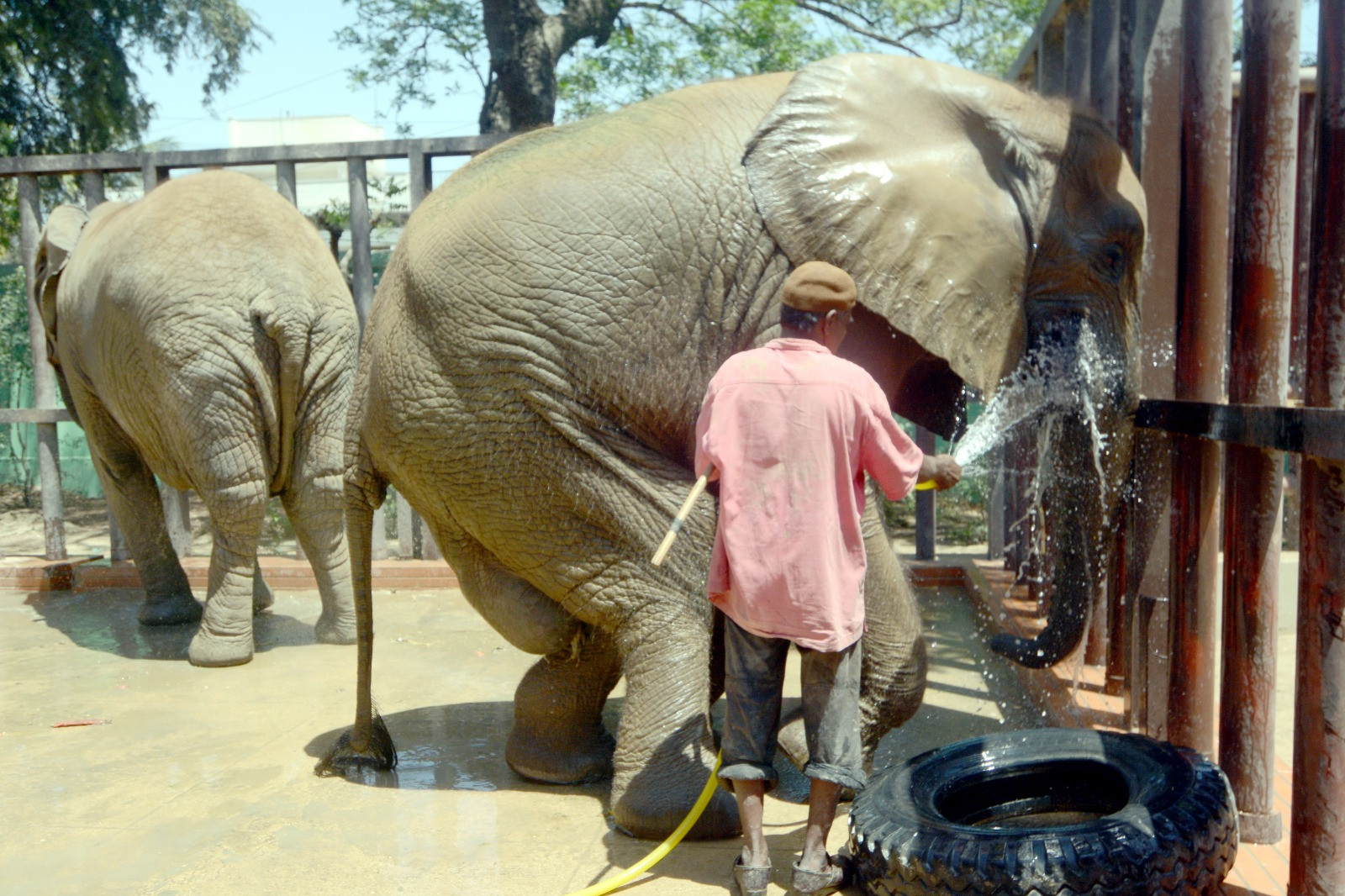 A diseased female elephant is being bathed in the Karachi Zoo.
Noor Jehan underwent a surgical examination April 4 with the team of veterinarians and wildlife experts associated with Four Paws. "The animal's condition has deteriorated over the last few weeks," said Egyptian Dr Amir Khalil.
The team arrived in Pakistan on the request of Sindh government to provide urgent medical assistance to the sick elephant. Two more experts later came for the examination. All of this was done at their own expense and Sindh government did not meet their expenses.
Dr Khalil said that Noor Jehan suffered from multiple health issues. The elephant, who stood with a stooped gait and has swelling on genitals, could be suffering from arthritis, said the vet. The animal also had skin discoloring which could be due to a fungal infection.
"We will know more after a surgical examination. It would include an endoscopy, x-ray and ultrasound after which we will find out the cause and extent of her ailment," he said.
The team had a fire brigade, a crane and a wench at their disposal during the surgery. The animal was hitched to the crane to keep it stable and upright during the operation.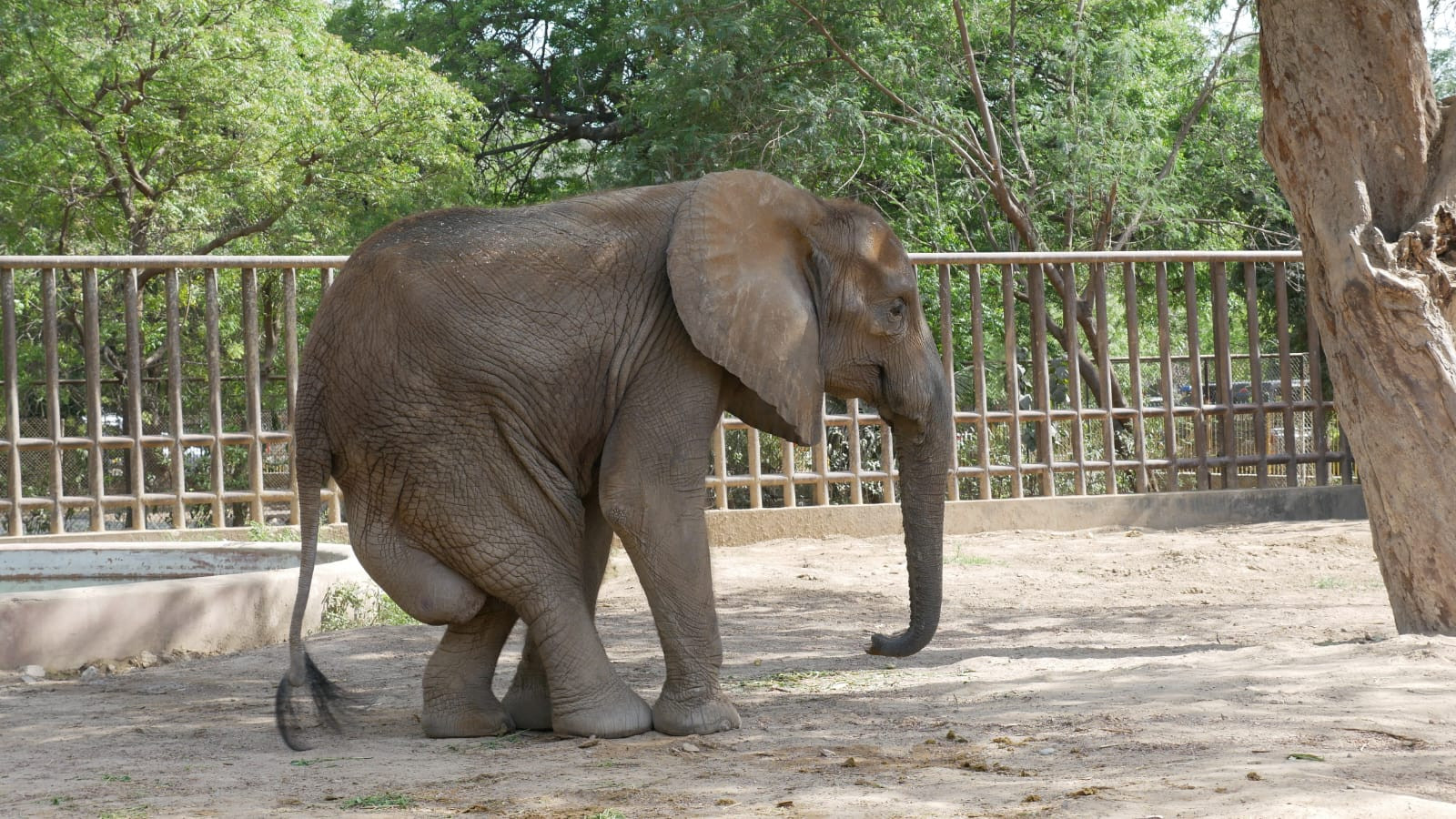 The 17-year-old African elephant Noor Jehan.
"Our greatest concern is not to let the animal fall down. We fear that if Noor Jehan falls down, she it will not get up again," said Dr Khalil while urging people pray for her recovery. "We will find out tomorrow whether it's a fracture, trauma or an infection."
He said the animal had an even chance of survival while urging everyone to work together. "It's not important what went wrong. It's important what we can do together."
Dr Marina Ivanov, who is part of the team, said they would determine whether they could start treatment after examining the elephant. "First we need to know the reason of this [present] condition [of the elephant] and then we will suggest the treatment," she added.
Noor Jehan's condition could have been the result of an accident, or a fight or collision between the elephants, the vets said. "Was it negligence or an infection? We will know for sure exactly what the problem is," Dr Khalil added.
Karachi Administrator Dr Saifur Rehman said that the vets were given complete assistance. He said his office contacted vets in Lahore, Faisalabad, Tando Jam and other areas but "no one could treat the sick elephant".
Dodging responsibility
The foreign experts who had also visited in 2022 to treat Madhubala, the other elephant sharing the cramped enclosure with Noor Jehan, had urged zoo authorities to relocate both elephants to Safari Park located on University Road.
Two other elephants at the Safari Park were among four baby elephants including Noor Jehan and Madhubala that were brought to Pakistan from Tanzania around 14 years ago. The officers were to blame for the failure to relocate the two elephants to Safari Park.
Zoo in-charge Khalid Hashmi, who has been under fire over the condition of animals at the zoo, said he has written at least three letters to the administration of Safari Park to set up the enclosure for the elephants. "I haven't heard anything positive yet," he said.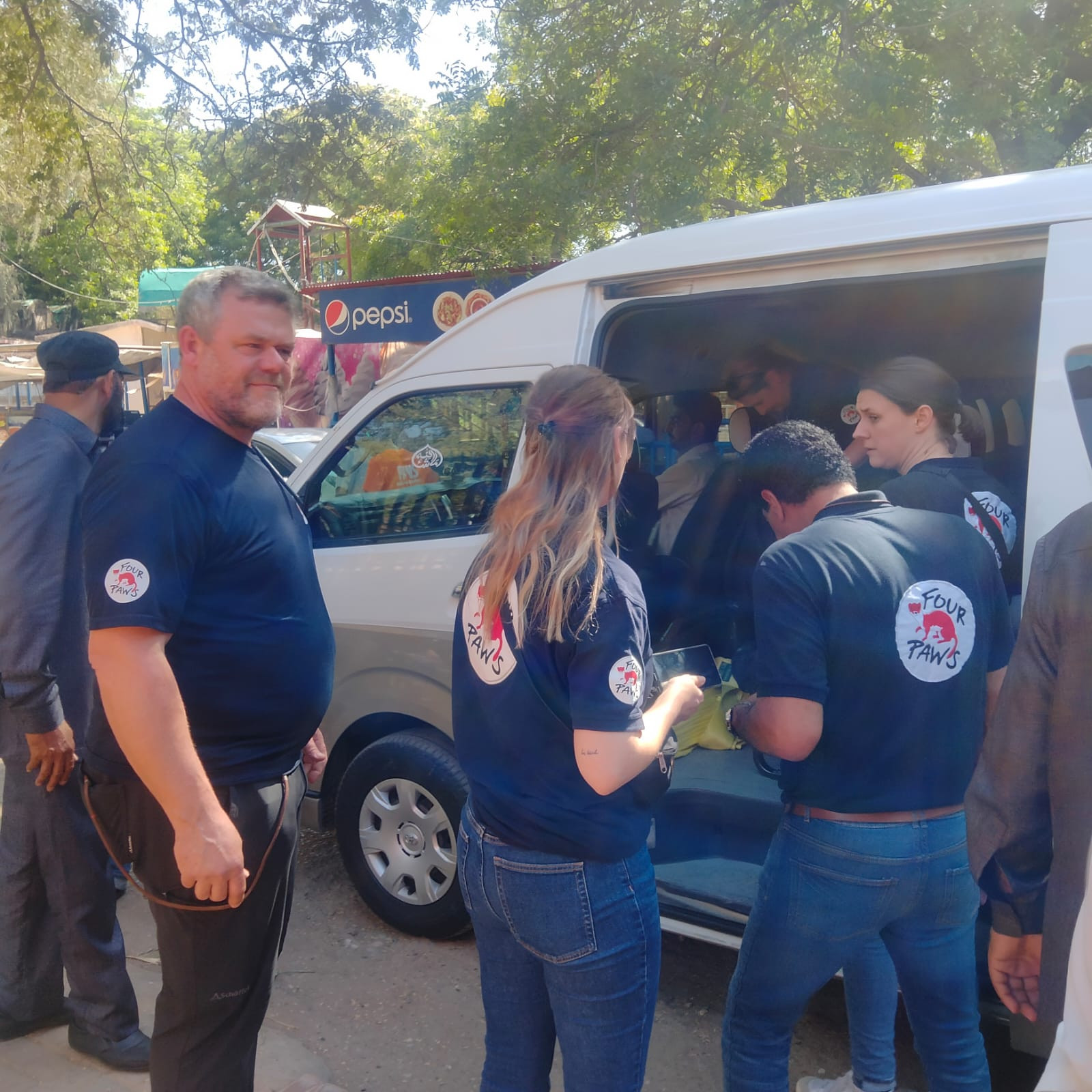 Foreign vets visit the ailing elephant at the Karachi Zoo.
An official at Safari Park told The Express Tribune that the project cost document had been back to Hashmi's office. "It is his responsibility to look into the matter," he responded.
Dr Khalil, in his conversation with media, welcomed the zoo administration's "strategic decision" to relocate the elephant to Safari Park.
"We will relocate both these elephants to Safari in next two weeks," Dr Rehman pledged. He said that the Safari administration has been directed to arrange to space for the animals immediately. "The top priority is to relocate as recommended by the vets," he said.
Mahera Omar, who runs the Pakistan Animal Welfare Society, said that Noor Jehan and Madhubala were kept in a confined enclosure with a cemented surface. "They are chained at night," she told reporters at the zoo.
One of the most frequented recreational points by children in the metropolitan city will lose one of its biggest attractions: Noor Jahan, the elephant.
The administration of Karachi's Zoological and Botanical Garden, located in one of the oldest neighbourhoods of the city, Garden, has finally decided to relocate Noor Jahan after it underwent a tusk surgery about six months ago.
The elephant, which suffered from some bone and joint illness, could not move easily after the surgery. "It seems she is still ill or in pain," a visitor from Sujawal district, Mohammad Hussain Soomro, said while visiting the zoo along with his children.
"She is fine. Animals feel this way after major surgeries," Khalid Hashmi, Senior Director at the zoo.
He also confirmed that the foreign vets who operated upon Noor Jahan will soon visit Karachi. "We have been in contact with them and expecting them in Karachi at the end of this month or in April," he added.
"It was on their recommendation that we decided to relocate the elephant to another suitable place. We also feel it is suitable to immediately take them to their new house in Safari Park," he said, adding that construction of a new enclosure has already been started there.
Commenting on Noor Jahan's health, Hashmi said that it was a common problem with animals. "She is fine and healthy and it will take her some time to get well," he added.
The zoo administration believes that most visitors, especially the children, want to see their favourite animals, including elephant. "The zoo will be without elephants until we get new ones," Hashmi said.
He said that the Karachi administrator has already been informed about the situation. A request has been forwarded to the city government to import Asian elephants for the zoo, he added. "Only Asian elephants can survive here," Hashmi said while adding that the zoo had Asian elephants in the 1990s and visiting children used to ride on them.
Meanwhile, Marina Ivanova, project manager of Four Pawas, said while treatment is being offered to the elephant, this is not enough for her as she needs a natural environment where her suffering and trauma could automatically alleviate.
Previously, the Four Paws suggested the Zoo authorities to move the elephant to the Safari Park because it was suffering from noise pollution and lack of a healthy environment. Noor Jehan's quarter at the Karachi Zoo consists of a muddy yard and a smaller cage where she gave rides to children for Rs20.
The space is barren – no shrubs, trees or watering holes. Elephants, like humans, are social animals and live in herds. However Noor Jehan has lived her life with just one other fellow elephant. The Paws chief mentioned that the basic five universal freedoms for animals should be given to the elephants. This includes a life that is full of choices about when, where and how they sleep, eat, bathe, socialise and spend their waking hours.
Adding to the confusion, it was high drama at the Karachi Zoo in April with officials running confused who to listen to…the axed director or the new one, while security was deployed to prevent 'unauthorised persons' from entering the premises.
The recently removed director of Karachi Zoo Khalid Hashmi refused to vacate his office prompting his replacement to break the locks of his office to assume charge. Hashmi was sent packing on complaints of maltreatment of animals, ignoring their health issues and not providing enough food. Karachi Administrator Saifur Rahman had directed Safari Park Director Kanwar Ayub to take additional charge of Karachi Zoo director ­ a Grade-19 position. Ayub reached the zoo and found the office locked. He asked for the keys, which were not provided by the peons concerned. Ayub conveyed the matter to the Karachi administrator who gave him permission to break the lock of the office and assume the charge. The new director ordered stepped up security at the zoo, banning entry of unauthorised people, including Hashmi.
Ayub informed senior officials about the situation and reported the controversy to both the Karachi Municipal commissioner and KMC administrator.
In recent years, the Karachi Zoo has been the centre of multiple complaints concerning animals' welfare and the poor facilities offered at the facility, which has triggered calls for an overhaul of the management system.
WWF raises alarm over elephant's welfare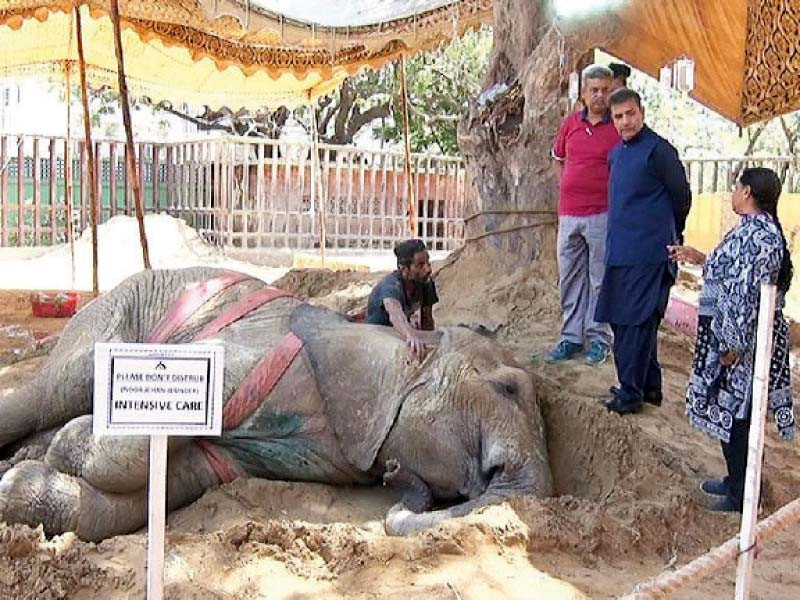 An 'intensive care' board is affixed in the enclosure of the ailing elephant, Noor Jahan, at Safari Park where she was under treatment.
On April 19, World Wildlife Fund- Pakistan (WWF-P) had raised concerns over the condition of Noor Jahan at Karachi Zoo.The organisation highlighted the issue of inadequate facilities and insufficient food leading to the deaths of elephants in Pakistani zoos. Despite treatment from experts, Noor Jahan's health did not improve, which according to WWF, is a recurring issue in the country's zoos.
Baby elephants are reportedly captured illegally from the wild and sold to zoos and circuses, while rare animals are often kept in unsuitable conditions, WWF said in the statement . The deaths of elephants in Pakistani zoos have been documented over the years, with examples including Anarkali in 2006, Saheli in 2012, Suzi in 2017, and Kaavan being transferred abroad in 2022.
The lack of proper management has been cited as the root cause of these incidents. Inadequate exercise and a lack of nutritious food can cause foot disease in elephants, and separating female elephants from their mates can create mental and physical stress, which can shorten their lifespan.
WWF recommends implementing laws to prevent the captivity of elephants and establishing strict rules and standards for zoo animals.