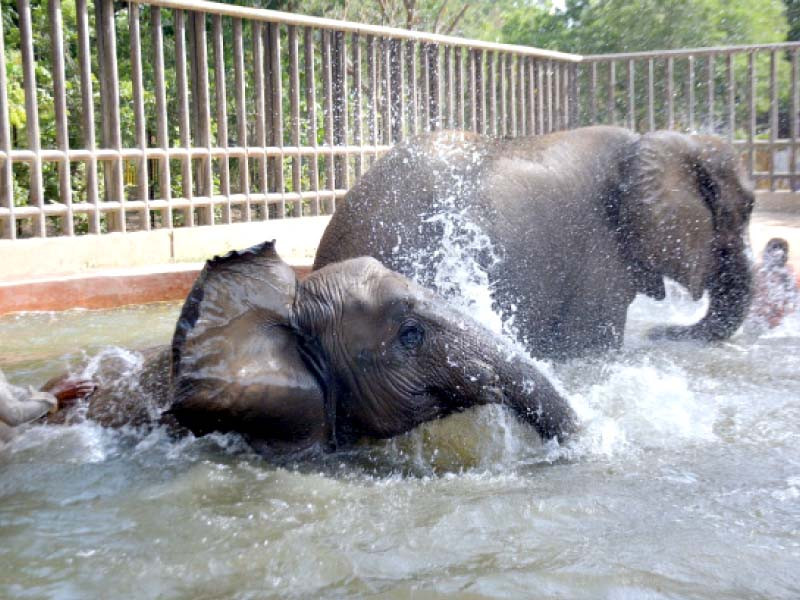 ---
A heatwave emergency has been declared in the Ayub National Park zoo because of the unusual rise in temperature in Rawalpindi to save animals from heatstroke and dehydration.
Water ponds have been established in cages of lions, bears, monkeys, zebras, deer, wolves, birds, and tigers to save them from heatstroke besides installing air coolers and extra fans with ice blocks in the animals' night barracks.
It has also been decided to install air conditioners to protect the animals if the temperature reaches 50 degrees.
Army Heritage Foundation Director-General Brig (retd) Asif Akhtar said that there were 130 rare species of animals and more than 200 birds in the Jungle World Zoo. He said that the unusual temperature rise has increased the chance of heatstroke and dehydration in animals and birds, therefore, the zoo administration has declared an emergency to protect animals and birds from the negative effects of the heatwave.
The Jungle World Zoo has 46 large and small size cages and 31-night barracks.
White tigers, Bengal tigers, lions, pumas, wolves, bears, monkeys, blue cows, deer, ponies, and other animals are kept in the zoo. The zoo also houses 200 different species of birds including ostriches, parrots, pheasants, cranes, pelicans, peacocks, pigeons, turkeys, crown cranes, and others.
Akhtar said that extreme heat and heatwave could affect animals and birds which was why an emergency has been declared in the only zoo in the twin cities.
During the emergency, the cages are covered with green clothes, and abundant water is provided in ponds set up in the cages besides placing air coolers and ice blocks.
He said that a veterinary team has been deployed to deal with the current situation, while they were also in contact with wildlife teams to deal with emergencies.
"Every effort is being made to rescue animals and birds from being hit by the heatwave. If the temperature reaches 50 degrees, we will install air conditions in animal barracks," he said. He further said that the Ayub National Park administration was using all resources for the protection of animals and birds in the prevailing temperatures.
Jungle World Zoo Deputy Director Major (retd) Salman said that with the increase in the intensity of heat, various changes take place in the eating habits of the animals, and because of this, the veterinary staff makes changes in their diet plan. "Lions, bears, tigers, deer, zebras, monkeys, puma, and wolves are fed a variety of vitamins and minerals in water to protect them from heatstroke and dehydration," he said.
If the condition of an animal worsens, drips are given after anesthesia, he said adding that as soon as the state of emergency is declared, ponds have been constructed in the cages of all animals and birds, while temporary sheds have been constructed in the cages where there are no shade trees.
He said that meat is being provided to carnivorous animals, a lion eats 10 kg of meat per day. He said that a pair of white tigers at the zoo is likely to be more affected by the heat, for which air coolers and extra fans were being installed in night barracks".
Salman said that white tigers feel more heat and have less immunity than Bengal tigers. He said that the timings have been changed to protect the animals from the heatwave. From 11 am to 5 pm, animals are taken out of the cages and transferred to the barracks where a ventilation system as well as other arrangements including air coolers have been installed.
Thermometers were being installed in cages and animal barracks to monitor the temperature, he said.
He went on to say that the animals were provided with abundant fresh water twice a day and a special team of veterinary doctors had been deployed to monitor all animals and birds during the hot summer season.
He said that vaccinations of these animals and birds are also being carried out to protect them against other weather effects. "Animals and birds are given glucose and other salts in water. When large animals are tired of the intense heat, they go to bathe in caged ponds," he said.
He said that mood swings also occur in the habit and attitude of bloodthirsty animals in extreme heat. In case of a severe change, the animals may harm each other for which the zoo staff is on duty round the clock to take care of them.
In the current situation, the zoo administration has appealed to visitors not to disturb the animals in the cages as the current heatwave was having negative effects on them.