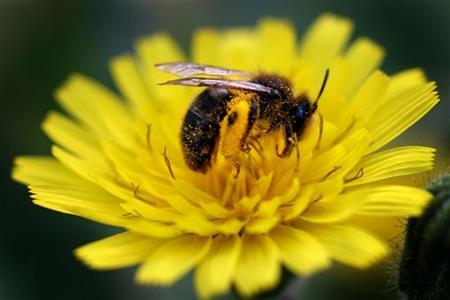 Rampant deforestation, an increased usage of harmful pesticides on crops, and a lack of orchards is gradually pushing honey bees towards extinction in the country.
Four types of bees are found in Pakistan, as per entomologists, namely Domna, Pahari, Chhoti, and European – which is colloquially known as Eruopi bee and was brought to the country from Australia; it is also regarded as the best bee by workers involved in the honey industry as it produces more honey than the other three.
Together the four types are responsible for producing 16 different variations of honey out of which the coveted berry honey comes with an exorbitant price tag. Saleem Akhtar, an entomologist based in Lahore, talking about the production of honey, said that a small teaspoon of honey contains the juice of 5,000 flowers, whereas a large one contains the juice of 200,000 flowers.
"Bees on average fly 3.5 million times and travel up to 50,000 kilometers just to make 500 grams of honey," Akhtar explained. Despite the labor they engage in, the bees' lifespan comes to an abrupt end when contractors use fire and smoke to extract honey from the hives, as per Secretary Forest and Wildlife Punjab, Shahid Zaman.
This is particularly troubling as Pakistan produces about 12,000 to 14,000 metric tons of honey annually and when their hives are repeatedly removed and lit up, "the bees simply relocate," informed Zaman. To put a stop to this relocation and to let bees use the honey they make, auction of honeycombs in government forests like Changamanga has been banned recently, as per Zaman.
The practice was previously banned in Changamanga, which is responsible for producing 1,800 to 2,000 kilograms of honey annually, when Covid-19 was peaking. "We need to realize that bees use honey for themselves in order to recover from disease and in doing so their population increases and so does the production, which is essential for us," the forest and wildlife departmental secretary implored.
Even with the ban in place, another existential threat to bees is the reliance on pesticides. Farooq Bhatti, Deputy Director of non-timber forest production, a subdivision of the forestry department, said, "bees usually get their food from various crops and an increased use of pesticides on these crops was causing irreparable damage to the bees." Bhatti said that apart from pesticides, climate change was also responsible for the overall bee population in the country deteriorating.
"Big obstacles lie in the production of honey and climate change is perhaps the biggest so it needs to be tackled immediately." While entomologists believe that a temporary ban on beehive auctions will help with the breeding of bees and their ability to produce honey, Zaman informed that large bee farms would be set up in Changamanga, Kamalia, and Mandi Bahauddin in the near future and a thousand workers would be trained to operate them in the first phase of the proposed project.