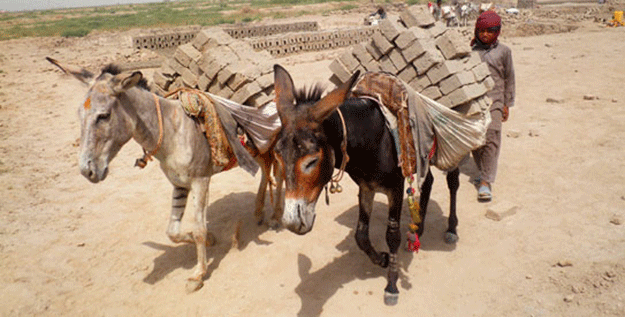 As a bill to improve animal welfare remains stuck in the Punjab Law Department, the Punjab province's donkeys, mules, and horses remain subjected to inhumane treatment with no respite in sight.
The Animal Welfare Act, which was meant to improve the outdated Prevention of Cruelty to Animals Act 1890, is still pending with the provincial law department in Punjab at the expense of the estimated 500,000 working animals in the province.
"There are more than one million working animals, like horses and donkeys, in Pakistan, of which 50% are in Punjab alone," informed Naeem Abbas, who is the convener of an international non-governmental organization (NGO) which focuses on the welfare of working animals.
"At present there are about 10,000 brick kilns across the country where at least 90,000 donkeys and mules are being used for the delivery of raw and baked bricks. Working animals are also used in coal mines," Abbas said.
"In the coal mines of Khushab and Chakwal alone, about 6,000 donkeys and mules are used for the transportation of coal from a depth of up to 5,000 feet." Despite the treatment dished out to the animals, agriculture and economic experts believe that working animals play an important role in economic development.
According to their estimates, a donkey and a horse are responsible for earning the livelihood of about eight people.
However, animal rights activist Aniza Khan Omarzai, is of the view that the amount of work these animals do is bad for their well-being. "Horses and mules are given less fodder and the injured ones are not tended to as more attention is paid to dairy animals. There are no shelter homes for working animals either except the one in Lahore which can accommodate a maximum of 40 animals," Omarzai said. She further added that the government has no actual funds to spend on the welfare of animals and has therefore turned a blind eye to their plight.
Dr Asif Rafique, Spokesperson of the Livestock Department Punjab, when inquired about what the government was doing to protect working animals, said that the Society for the Prevention of Cruelty to Animals (SPCA) is working to curb the violence and cruel treatment of working animals.
However, Dr Rafique conceded that the Punjab Livestock Department is presently not running any project for the protection of donkeys, horses, and mules. "The current fines for violence against animals are measly. Therefore, the Animal Welfare Act has been prepared for further amendments to the 1890 Act, which will soon be sent to the Provincial Cabinet for approval. The new Act covers various aspects of animal welfare, including animal cruelty, starvation, overburdening, and proper placement of animals, and proposes to increase penalties and fines,"