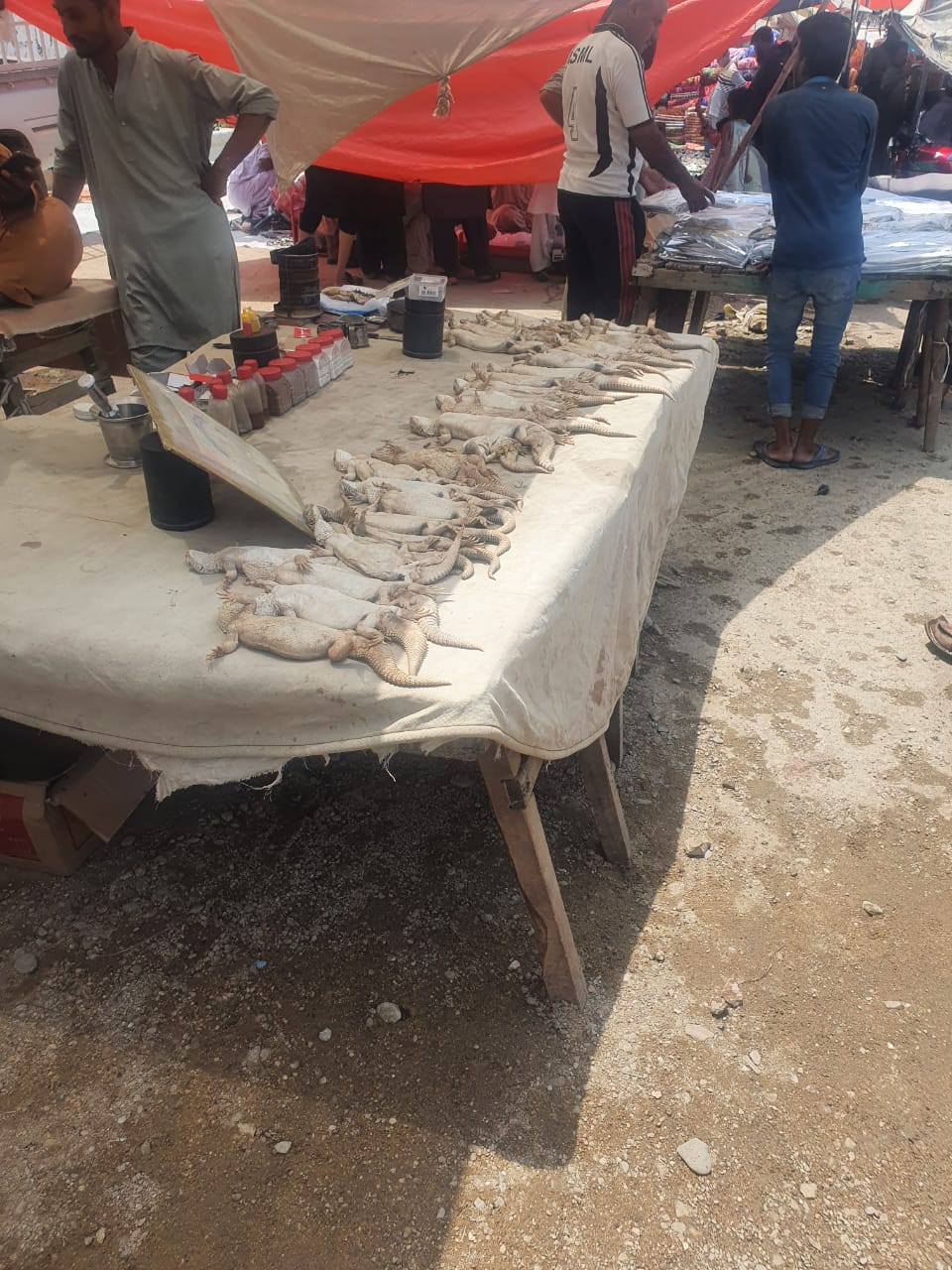 The Sindh Wildlife Department (SWD) has taken more than 140 spiny-tailed lizards locally known as 'Sanda' into custody during a raid in a hilly area of Thatta district.
The raiding party of SWD Hyderabad had received an information that some poachers were busy in hunting of lizards in Lonikot, an area of Thatta district.
SWD Inspector Aijaz Noondani along with his three-member team conducted the raid when four teenage boys were transporting lizards to a safer place.
"They wanted to transport them to Karachi," Noondani said. The lizards are used by quakcs to make so-called aphrodisiac from their oil. He said that the poachers use different methods to trap the lizards. He said that some of the families were involved in the business. The poachers, according to Noondani, were released on the surety of their elders. The elders also assured the SWD officials that their children will not hunt the lizards anymore.
Later, all the lizards were released in a safer place far away from poachers' areas, he said.
This was the fifth raids in last couple of months. In the first raid, 260 lizards were recovered while 371 in second, 93 in third and 113 in fourth raids.
SWD's Provincial head Javed Ahmed Mahar said that spiny-tailed lizards are considered beneficial for livestock farming and are environment friendly. Mahar said that strict action was taken against all poachers involved in any illegal activity. He also said that different tactics were being used to discourage the poachers.
In 2020, over 2,500 spiny-tailed lizards were recovered from different areas of Thatta and Karachi's suburbs.
Wildlife conservators said that spiny-tailed lizards are sold in major towns, especially in Karachi.
Noondani said that approximately each spiny-tailed lizard is sold for Rs 500, adding that the mature one could be sold for as much as Rs 1,000. He said that because of an easy business some of the families in hilly areas in Thatta, Jamshoro and Dadu were involved in the business for years. "Despite raids, arrests and warnings they do not keep away them hunting innocent lizards," he said.
The wildlife conservators said that spiny-tailed lizards' oil is sold in the market as an aphrodisiac.
They said that different myths have been associated with the oil which is called 'sanday ka tel'.