The number of migratory birds flying south to the wetlands of Sindh to escape the frigid cold of the Tundra region was recorded at around 661,537, as per the annual bird survey of the Sindh Wildlife Department (SWD). In 2022, the number is more than 49,000 as compared with the last winter.
Though there is no check-in for the feathered guests who are only fair weather friends, coming with the winter and leaving with spring, SWD uses traditional method of counting with the help of telescope.
Conservation teams from villages, towns and districts send reports which are then compiled for estimated number of birds and their species.
According to Sindh Wildlife Conservator Javed Mehar, at the beginning of the winter season, the influx of migratory birds from all over the world, including Siberia, begins.
These migratory birds travel thousands of miles through the Indus Flyway Zone and head for wetlands across Sindh, including Karachi. The process of their arrival starts from the month of November every year.
After a stay of four months, these avian guests return their homeward journey in March. These migratory birds include both aquatic and terrestrial birds.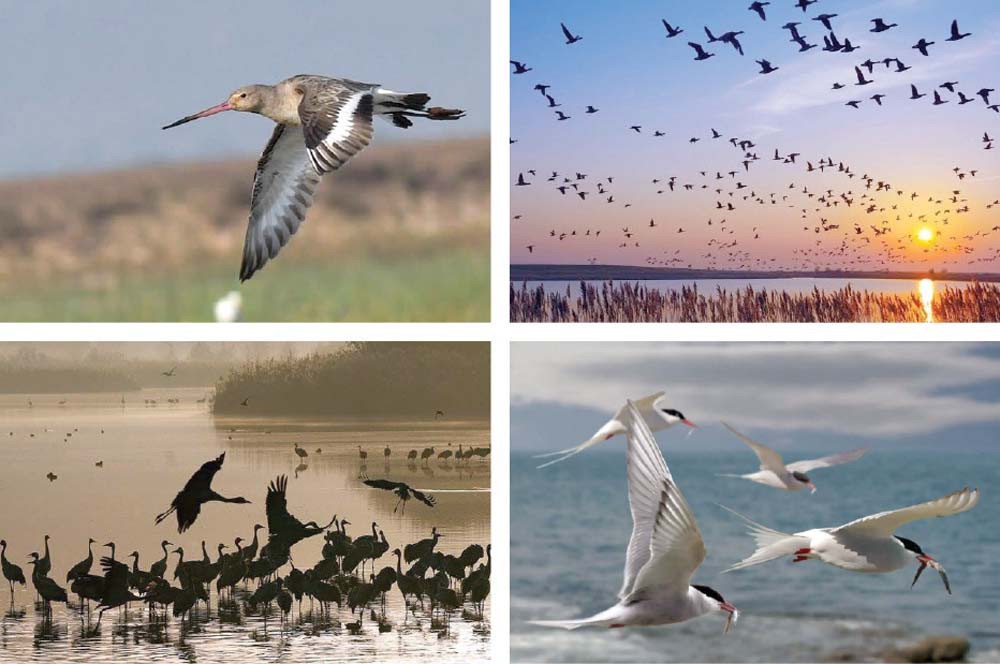 In the past, a large number of them were reported in different wetlands of Sindh including Karachi. However, due to climate change and wetland shrinkage and some other factors, the numbers remained low.
The Sindh Wildlife Department has released a survey report on migratory birds based on census conducted in January and February this year.
He said that during the recent survey, 16 species of waterfowls, 78 species of wedding birds and more than 80 species of other miscellaneous birds were recorded.
According to Javed Mehar, besides Karachi, survey teams were formed in Sanghar, Nawabshah, Nowshero Feroze, Dadu, Shaheed Benazirabad, Larkana, Qambar Shahdadkot, Thatta and other districts of rural Sindh.
The teams remained continuously active in Hawke's Bay, Hub Dam, Korangi Creeks and other wetlands like Manchar Lake, Kenjhar Lake and Haleji Lake.
The most tried and tested method is the use of telescope. During this census, a square is drawn in the vicinity of any water body and other devices including spotting scope are installed near it. The number of birds perched in this frame is counted. The same process is repeated over a distance of a few kilometers and this number is compiled gradually.
The number of guest birds was 741,042 in 2019, 248,105 in 2018, 153,916 in 2017 and 1.5 million in 2015. In the 1991 census, the number was recorded at 1,756,890. It should be noted that this series of bird census has been going on since 1972 by the SWD.
The SWD conservator said hunting was allowed under licence in the past. However, a ban was placed to save the depleting population of the migratory birds. Meanwhile, more drastic measures were taken in 2020 to address these factors under which Sindh Wildlife teams were given the status of Wildlife Protection Police and its good results not only appeared in the form of increase in the number of birds this year but also 42 suspects were arrested for illegal bird hunting. In addition to punishments, fines of more than Rs250,000 were imposed. Cases of some suspects are pending in the trial courts.
2020

There has been a rise in the birds visiting the Sindh province, as compared to the previous four years.
The survey counted 741,042 migratory birds in the province in 2020 – a huge leap from the 248,105 birds that flew here in 2019. In 2018, the number was 511,112, while in 2017, it was 384,790 and in 2016, it was 375,000.

Yet the Sindh wildlife department (SWD), which has been conducting the survey each year since 1980, was unsure of what had brought about the change.
In the early 1990s, Sindh would have over 1.6 million birds flying here each year. But the number decreased with the passage of time as 'gun culture' became a norm in the country.
Meanwhile, SWD chief conservator Javed Ahmed Mahar welcomed the influx as a good omen for the protection and preservation of wildlife in Sindh. "I am not sure of the reason for this, but am happy to share that the number has increased significantly."

In the case of birds flocking to Haleji Lake, however, he did have an answer – the recent rehabilitation of the wildlife sanctuary. As a result of the lake's revival, according to him, over 97,000 birds had visited the lake this year, after 4,547 in 2019 and fewer than 9,000 in the previous three years. In 2016, in fact, the number had dipped to a mere 1,630, in stark contrast to this year's tally.
The survey
Every year, approximately 40 percent of Sindh's wetlands are surveyed to gain insights into the migratory patterns and numbers of over 80 species of birds.
The 24 sites surveyed across 15 districts encompassed five wildlife sanctuaries and two private reserved. The birds counted included grebes, geese, ducks, pelicans, cormorants, darters, herons, egrets, storks, ibises, spoonbills, flamingoes, cranes, jacanas, passerines and raptors, among many others.
These migratory birds, escaping the cold winter for warmer climes, arrive in Pakistan's northern regions by the middle of August, flying on to Sindh by November.

"They stay in Sindh till February," explained Mahar, adding that by May, they would reach their homes once again, remaining there for a couple of months before stretching their wings once again. "They are great travellers, remaining on the move for almost six months each year."
Pakistan lies on what is known as the 'Indus Flyway,' one of the routes travelled by migratory birds. They are creatures of habit too – each species takes the same route for several years without much change, according to Mahar.
In recent years, however, despite a strict check on illegal hunting, countless birds have been targeted by hunters and trappers across Sindh, a SWD official disclosed.