Report shows signs of increase in some vulture species in Tharparkar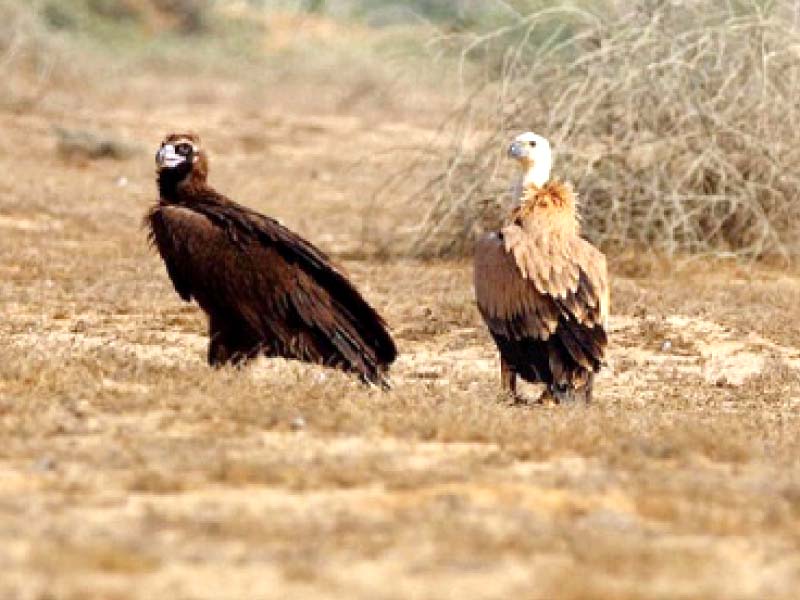 While vulture populations in Pakistan are critically endangered, some species have shown an increase in numbers in Tharparkar, long considered a stronghold of these scavengers in Sindh.
The federal government may declare 'Greater Thar' – encompassing parts of Tharparkar, Umerkot, Sanghar, Khairpur and Ghotki districts – as a national park in consultation with the Sindh government and other stakeholders.
In Sept 2020, Federal climate change secretary Naheed Shah Durrani announced this during a webinar launch of a report on the status of vultures in Sindh, organised by the International Union for Conservation of Nature (IUCN), Sindh Engro Coal Mining Company (SECMC), Baanh Beli and Sindh Wildlife Department.
Asking the Sindh government to prepare the park's concept report, Durrani assured it of her ministry's full support.
"This will help us create greater awareness and will eventually go towards improvement and survival of such precious habitats," she said.
"Torrential rains have reinforced the urgency for fighting climate change and its impacts, which affect biodiversity," said Naseer Memon from SECMC. "This requires stakeholders to collaborate for our ecosystem and the people, and such collaborations, involving both the development sector and the private sector, help us achieve results on the ground."
Encouraging signs
According to a key finding of the report – launched on International Vulture Awareness Day – a few species of Sindh's vulture population are showing signs of an increase while others remain in decline.
Furthermore, apart from Tharparkar – long considered a stronghold of vultures in the province – Kirthar National Park and its extended range up to Gorakh Hills, too, are now considered a habitat for these critically endangered birds.
Renowned ornithologist Dr ZB Mirza, who led the survey, stated that Tharparkar was a unique region in this regard, with four resident and three migratory vulture species. Recommending the monitoring of vulture conservation, he laid emphasis on raising awareness among local communities as vital for the scavengers' survival.
Meanwhile, IUCN's Mahmood Akhtar Cheema pointed out that Pakistan's vulture population had drastically fallen over the last two decades, adding, though, that efforts were now underway to save them from the threats they faced.
Facing threats
Speaking to The Express Tribune, Dhartee Development Society head Mansoor Dahri said that there was a considerable vulture population in Tharparkar and bordering areas of Badin. "Most vultures here have come from India because of their natural habitat's destruction," he explained, adding that the birds had been breeding in Kali Tal, Nagarparkar, Diplo and other areas in recent years.
According to him, there are over 450 species of different birds in Tharparkar, though there has been no official survey of this.
Meanwhile, IUCN's Mainstreaming Biodiversity in Thar Programme coordinator Naveed Ali Soomro said that while red-headed and white-backed vultures were declining in Pakistan, other species, such as long-billed vultures and Egyptian scavengers had seen a slight increase.
He elaborated that the use of diclofenac – an injection normally administered to livestock – was considered the major reason for the extinction of vultures in the country, to whom it is dangerous. Though its use in veterinary medicines has been banned since 2006, its unauthorised use has continued.
Plus, he added, climate change had indirectly affected flora and fauna, while cutting of trees also destroyed vultures' nesting habitats. A third reason for their decline, according to him, was the unavailability of food, as people did not leave dead animals on the ground, while the rising number of stray dogs had also played a role.