The wolves at the Islamabad Zoo were shifted to their newly-built cages in Ayub National Park in Rawalpindi that were paid for by Four Paws while the PTI Government took a long time to decide the fate of two bears and the lone elephant, Kavaan, in the zoo in Islamabad.
A team of Austrian experts from Four Paws, which arrived in Islamabad in August 2020 had offered to take the bears to one of their sanctuaries in Jordan where they would get better care.
Four Paws is an international animal welfare organisation committed to encouraging people to treat animals with respect, compassion and understanding. It has presence in 15 countries. The team arrived on the invitation of the government on August 22.
The six-member team had come to evaluate the condition of Kavaan at the zoo before it could be allowed to undertake the seven-hour journey to its 25,000-acre retirement home in Cambodia.
Four Paws said Kaavan was obese, terribly lonely and in the need of foot care which cannot be provided at the Islamabad zoo due to lack of facilities.
In September 2020, the team of experts had operated on the female bear which was in a critical condition. The team darted the bear to clean an infected five to six inches long cut on the chest. The bear has been in pain for a year now. Two bear sanctuaries in Punjab have already refused to accept the bears.
According to a source in the Ministry of Climate Change, the PTI government was indecisive if it is viable to send the elephant to Cambodia and the bears to Jordan. "The government was concerned that sending the animals to sanctuaries outside Pakistan brings a bad name to the country. No country would want to give animals to Islamabad zoo ever again," he said.
A two-and-a-half minutes video by Brut Nature, which is a news media company, was shown on social media showing how the doors of the zoo are now shut and its 30 wild animals awaited rescue for a long time. It highlighted how international organisations raisined alarms about abuse of animals in the zoo. It also showed footage of the zoo handlers lighting fire inside the cage of lions.
Two lions died of asphyxiation following the primitive methods used to shift the lions to a sanctuary in Kasur.
When contacted, spokesperson for the Ministry of Climate Change Mohammad Saleem acknowledged that there was no doubt that the animals were kept in a terrible condition. He had no explanation as to why his Ministry could not do anything to help the animals.
"The expert committee formed to assist the government to shift the zoo animals following Islamabad High Court (IHC) orders had reservations about shifting Kaavan to the elephant sanctuary in Cambodia. One of the experts Dr Mirza in the committee advised against shifting the elephant to Cambodia. He fears that Kaavan might not survive the journey and even if it does it will be isolated in the new home."
Kaavan cleared for travel to Cambodia
Foreign vets give pachyderm health certificate
---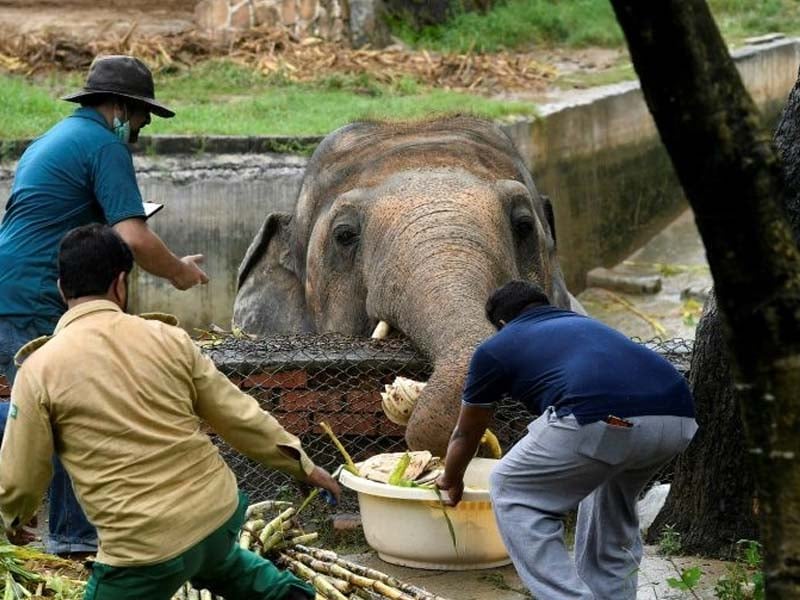 Veterinarians give Kaavan, the elephant at the Islamabad Zoo, a medical exam to determine the state of his health.
A team of international vets using tranquilliser darts, flatbreads and the soothing lyrics of Frank Sinatra conducted a medical examination Sept 4, 2020 on Kaavan ahead of his planned move to Cambodia.
The plight of Kaavan, an overweight, 35-year-old bull elephant had drawn international condemnation and highlighted the woeful state of Islamabad's zoo.
Following the ruling, Austria-based animal welfare and rescue group Four Paws International were enlisted to help move Kaavan — whose case was boosted by the singer and activist Cher.
A transport crate was built and the elephant was habituated to it before being flown to a 25,000-acre Cambodian wildlife sanctuary in a Antonov An-225 airlift cargo plane.
In order to ascertain as to how Kaavan has fared since the last examination in 2016, the experts sedated him to get up close on Sept 4.
Armed with a tub filled with bananas and flatbreads, Four Paws veterinarian Amir Khalil coaxed the elephant into an emptied-out concrete bathing pond while head vet Frank Goeritz used a tranquilliser pistol to fire three large darts into the animal.
Unaccustomed to close human contact, the elephant grew a little agitated, prompting Khalil to sing Sinatra's classic melody "My Way", which appeared to calm the pachyderm as he chomped on chapattis.
Once the tranquillisers kicked in, Khalil and Goeritz measured Kaavan's hefty frame and girth, took blood samples and inserted a microchip in his left shoulder.
"He is in good general condition… but he is totally obese, he weighs way too much and his feet are terrible," said Goeritz, pointing to the elephant's cracked and malformed toenails that will need medical attention.
With little legislation to safeguard animal welfare, zoos across Pakistan are notorious for their poor conditions.
In 2018, 30 animals died within months of a new zoo opening in the northwestern city of Peshawar, including three snow leopard cubs.
Goeritz said Kaavan has been eating up to 200 kilograms of sugar cane each day and deprived of intellectual stimuli, resulting in "stereotypic" behaviour where he swooshes his head and trunk from side to side for hours on end.
"He is bored. He needs definitely physical and mental challenges," said Goeritz, who has spent three decades working with captive elephants around the world.