Punjab Urial population thrives as mating season coincides with provincial lockdown and increased conservation efforts
---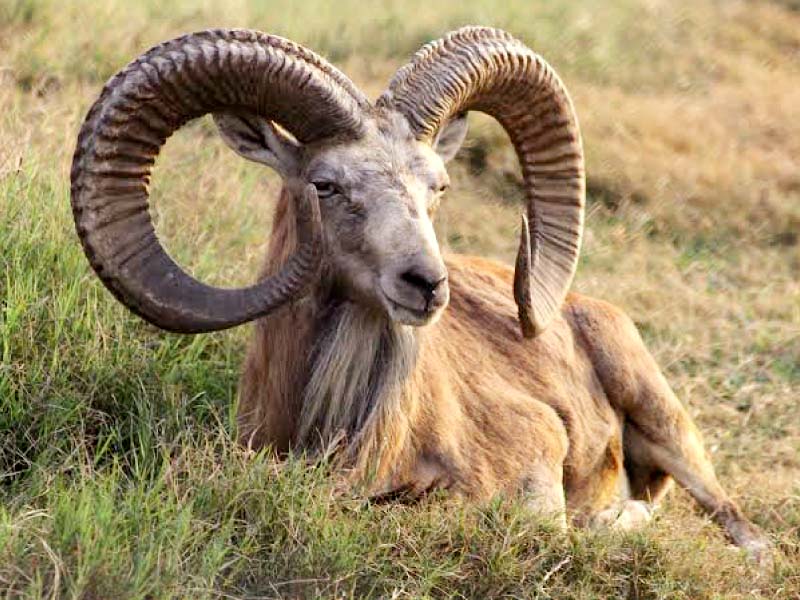 ---
The red horned urial–a local variety of wild sheep– endemic to Northern Punjab was once said to be disappearing from its historic range due to illegal hunting and overutisation of rangelands by domestic livestock. However, following several protection and conservation efforts and the recent provincial lockdown, the local urial population is reported to have risen to above 5,000 during the current season.
As per local records, the number of Punjab Urials born in Klarkahr, Jhelum and Kalabagh Salt Range during the last breeding season is estimated to be close to one thousand, which is mainly due to the habitat conservation efforts initiated by community-based organisations (CBOs) working in the area. Nevertheless, the coronavirus lockdown coinciding with the urial breeding season which spans from March to mid-April, is also being attributed to the increase in the wild sheep subspecies' population this season.
"There are six most common types of urials including the Punjabi, Bukhara, Baluchi, Afghani and Ladakhi varieties. Although they are native to centeral Asia and found everywhere from Iran to Kazakhstan, the Punjabi variety is exclusive to Jhelum and Chakwal is the pride of the province. It can range between 70 to 90 centemetres in height and about 97 centemetres in length; with a predominantly rust-coloured coat and a whitish rump, which makes it a unique beauty and the identity of Punjab," informed The Punjab Wildlife Honorary Game Warden Badar Muneer.
Munir further informed that urials are surveyed every year in Pakistan. According to the honorary game warden, last year's survey, which was conducted in collaboration with organisations like Wildlife Punjab, Zoological Survey of Pakistan, Ministry of Climate Change, The Snow Leopard Foundation and The Worldwide Fund for Nature (WWF), reportedly surveyed over 170,000 acres in 15 days.
The survey was conducted under the management of five CBOs and three game reserves across Rakh Kundal, Jalalpur and Chambi Sarla and it is due to their efforts that the Punjab Urial population is seen to be thriving in the current season. "The population of the Punjab Urial in the Salt Range was estimated to be around 4,000 last year. There has been an addition of a thousand more newborns this season, which has taken the population to 5,000 as of this year."
In addition to that Punjab Wildlife Deputy Director Mudassar Hassan told The Express Tribune that wildlife in general has been observed to be thriving this year as compared to previous seasons.
As per the provincial wildlife deputy director, they had formed special teams with CBOs during the lockdown period to curb illegal hunting and prevent poachers from capturing and smuggling urial newborns.
"We have been keeping a close eye on the newborns and thankfully no incident of poaching has been reported so far. Now that most of the calves are between 1.5 to two months old and can dash at sight of danger, they are no longer easy targets for anyone who means harm," said Hassan.
On the other hand, it is imperative to mention that the Punjab Wildlife also organizes Punjab Urial Hunting Trophy every year for domestic and foreign participants. The trophy hunting however, only allows male urials nearing the end of their natural lifespan to be hunted while foreigners and locals are charged $17,000 and Rs500,000 respectively to be able to participate. At the end of the season, 80 per cent of the proceeds generated from the hunting trophy fee is given to local CBOs working towards breeding and protecting the Punjab Urials.
There are currently five CBOs registered in Punjab, which includes two in Chakwal, two in Jhelum and one in Mianwali. These CBOs, which have been allotted thousands of acres land for wildlife conservation also have their own staff, who are working to ensure the safety of endangered animals.