A striped hyena was rescued in Dera Ismail Khan by wildlife authorities after a video of it being attacked by men from a village with their dogs was shared on social media. The hyena, which has been identified as a female, has been sent to Peshawar for treatment before it can be released back into the wild.
The men from a village in Kohi Pewar of Drazanda tehsil tried to flush out the hyena from its den with the help of their dogs and took it to their village to torture and then kill it. The authorities reached on time and saved its life.
DI Khan Deputy Commissioner, DPO and the assistant commissioner took part in the rescue operation along with the wildlife department's team.
Striped hyenas have been classified as 'near threatened' on the IUCN Red List of Threatened Species.
Striped hyenas are not members of either the dog or cat families. They belong to a unique family of their own, Hyaenidae.
They have a broad head, dark eyes, a think muzzle and pointy ears. They are mostly scavengers and are known to steal crops such as dates, melons, and peaches among others, and hunt small reptiles and insects.
Sindh Wildlife Conservator Javed Mahar, in a tweet, said that these animals prefer scavenging rather than hunting. People, however, think of them as killers and "ride of witch". "This perception is absolutely wrong," he adds. "They are beautiful creatures and companions of the evolutionary survival process." They are found in Sindh near the Kirthar National Park.
In India, Striped Hyena, Victim of a Suspected Mob Attack, Rescued By Wildlife SOS in July 2020
As dusk settles over the city of Agra in Uttar Pradesh, a group of people looks for a Striped Hyena on the loose. Spotted during the early hours of the morning, dangerously close to human habitation, the residents are whipped into a state of panic due to many misunderstandings surrounding this species. In this highly frenzied state, the hyena suffers injuries, and needs medical treatment.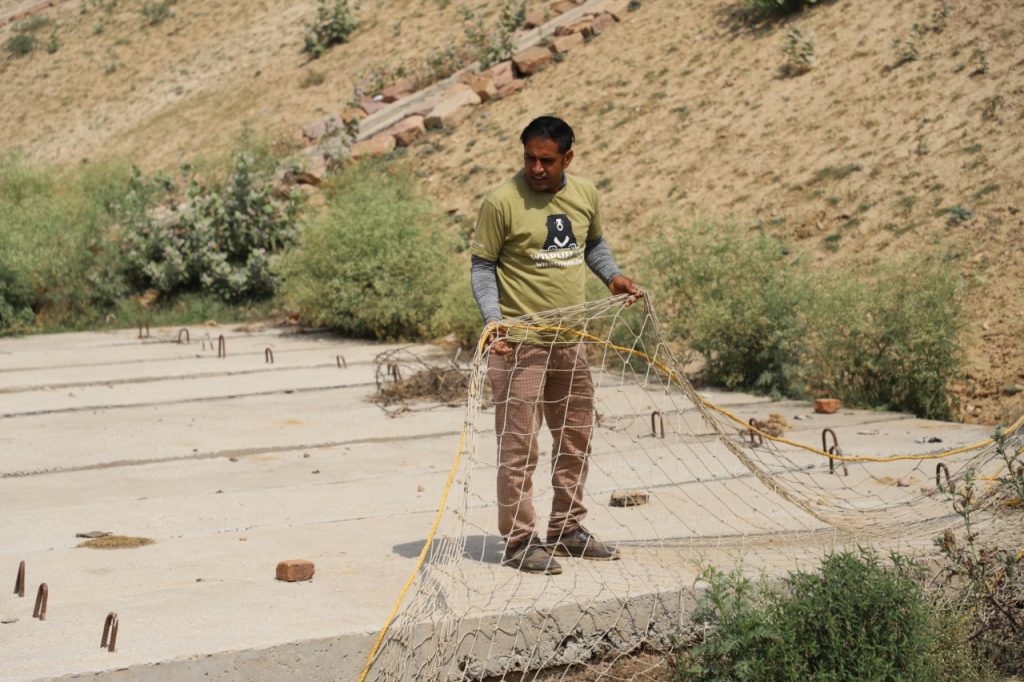 This unfortunate scenario has been encountered by Wildlife SOS rescuers very frequently, with conflict cases involving Hyenas mostly centred in the state of Uttar Pradesh. The hyena is a highly misunderstood animal as it is primarily a scavenger in nature, and has been vilified in modern culture. Folklore surrounding the species is quite unflattering, thus breeding a sense of mistrust when it comes to these animals. However, The Striped hyena (Hyaena hyaena) is listed as Near Threatened in the IUCN Red list and is protected under Schedule III of the Wildlife Protection Act, 1972.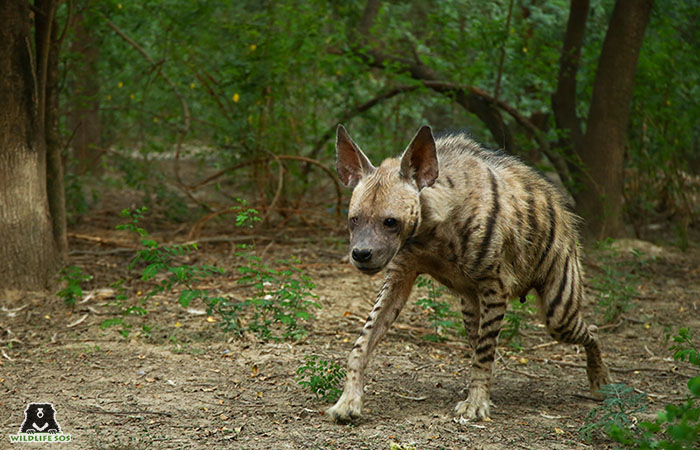 The soaring heat in the months of April and May becomes a major reason for wild animals to venture close to human territories for cool hiding spots, food and shelter. The hyena had been spotted many times around the village of Bamroli, Katara during the preceding weeks, and all those days of uncertainty culminated in a situation of fear, leading to suspicions of the poor animal being blinded during confrontations with locals.
When the Wildlife SOS Rapid Response Unit (+91-9917109666), operating out of Agra, is informed of the situation, a team is immediately dispatched to the hyena's location with a team officials from the State Forest Department. Time and again, Wildlife SOS has received such distress calls wherein hyenas have been spotted in wells, in fields and farms around villages and other situations of conflict, often sustaining grave injuries, and being sent for recuperation under the care of our veterinarians. Understanding the urgency of mounting a rescue operation as soon as possible, the teams further divide into groups. However, for this particular hyena, they spend quite some time looking around in the tall bushes and culverts, but the hyena is nowhere to be found.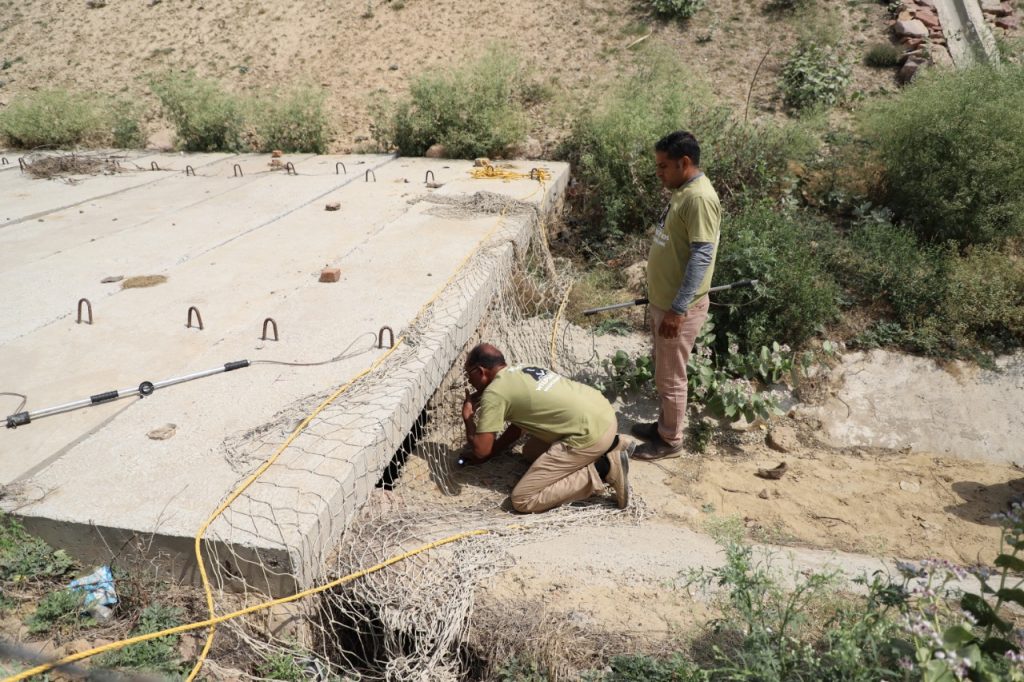 As anxiety mounts, villagers and alert rescuers are concerned, by this point, that the injured hyena may also be suffering from dehydration due to rising temperatures in the country. The only thing on the mind of Wildlife SOS rescuers is to save the life of the animal and render the urgent medical attention it requires. The team sets up a net and geared with requisite equipment tries to safely extract the hyena. After a few tries, lo and behold, the hyena is safely immobilized and shifted to the Agra Bear Rescue Facility for treatment, where he is immediately wheeled into the Operating Theatre.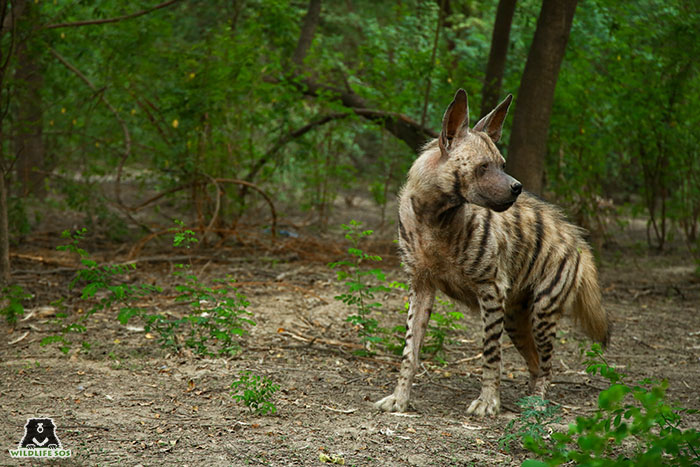 The veterinarians know that only dedicated, round-the-clock treatment could save the hyena's life. Having faced this exact situation over many previous cases, the team discovers that it was most probably the victim of a frenzied mob that had acted out of fear for their own safety. It sustained grave injuries all over its bodies, and its right eye is blinded due to extensive damage to optic nerves. It also seems to have sustained blows to the head.
Over the next few weeks, the vets work around the clock to hasten healing. Unfortunately, there isn't much that can be done to reverse its partial blindness, but nutrient filled food, immuno-boosters and regular dressings work wonders as the hyena shows considerable improvement. The team heaves a sigh of relief as the hyena's appetite increases and it begins gingerly moving around, thus proving that the treatment was successful! Soon he was found completely fit for release after a clean bill of health from Wildlife SOS veterinarians.
Today, he roams free in a large, forested area adjacent to the bear rescue centre in Agra and is spotted occasionally, often leaving mingled feelings of delight on behalf of our rescuers!

To catch this rescue on screen, you can now watch all episodes of 'India's Jungle Heroes' by National Geographic Wild showcasing the lifesaving work of Wildlife SOS on Disney+ Hotstar Premium!